KNOWLEDGEABLE & EXPERIENCED INSTRUCTORS
Faculty members are Music Degree graduates of prestigious music schools and conservatories such as New England Conservatory, Berklee College of Music & Boston University. Besides being experienced teachers with extensive training in pedagogy, they are also active performers. Moreover, the instruments that they teach are their primary instruments. We are also the only school that performs both a Massachusetts CORI background check as well as a nationwide background check with Intelius.
FUN AND POSITIVE LEARNING EXPERIENCE
Merry Melody Music Academy adopts the practice of positive encouragement. Our friendly and patient instructors know how to engage students in a fun, positive and encouraging learning environment where they can enjoy and progress at their own pace.
PERSONALIZED MATCHING WITH AN INSTRUCTOR
Personalities matter. We offer a free assessment meeting with one of the directors before beginning lessons in order to ensure successful matching of personalities between the student and instructor.
UNIQUELY DESIGNED LESSON PLANS
We do not only teach students how to play songs. We teach students music. To achieve the goal of life-long enjoyment of music, our lessons are uniquely designed to balance both students' interests and fundamentals.
AMPLE PERFORMANCE OPPORTUNITIES
Public performance helps to build students' confidence. It is also a fun way for students to receive affirmation of their progress. At no extra cost, students can actively participate in a variety of performance opportunities. From low-pressure situations such as retirement home recitals to larger audience occasions like concerts at the malls, students and parents have the flexibility to choose the opportunities most suitable to their needs. Please check out some videos of the wonderful performances from our recent recital. You can also click to see our yearly calendar to get an idea of the special events we present.
EXPERIENCED LEADERSHIP
A school is only as good as its leaders. As founders and Directors, Vivian Tsang and Chris Poon are both experienced and accomplished musicians/educators whose mission is to share the joy of music with students and to equip them for a life-long enjoyment. Merry Melody Music Academy was founded on this concept and students have been flourishing under their direction since 2001. They are both graduates of prestigious conservatories and music schools with extensive teaching experience and pedagogical training. Some of their personal career highlights include Vivian as the Immediate Past President of the Massachusetts Music Teachers Association and Chris as a lecturer at the Institute of Vocational Education (IVE) in Hong Kong.
GREAT CUSTOMER SERVICE
Providing top-notch customer service is one of our priorities. Our organized scheduling system and attentive customer assistance are only a few of the many examples that made us one of the premier schools.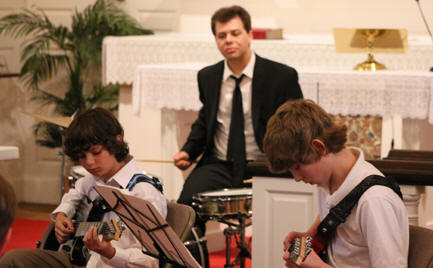 EXCELLENT VALUE
While our competitors are rigged with hidden fees, we offer competitive rates and no additional fees for registration or recitals, not to mention our free books delivery service to your door and complimentary equipment purchase assistance.